You have to be living under a rock to not realize how big ballet is now. Go back to 2010 with
Black Swan's
chilling portrayal of the world of ballet (notably costumed by Rodarté). Now come back to today where not one, but two summer shows capture the graceful and enchanting, yet at times painful and dramatic world, of ballet.
CW's Breaking Pointe
, which premiered two weeks ago, is a reality show chronicling the professional and personal lives of Salt Lake City's Ballet West Company while
ABC Family's Bunheads
, starring Sutton Foster, has a little more comic relief intermixed with the drama. (Who wouldn't expect that from Gilmore Girls' creator Amy Sherman Palladino)?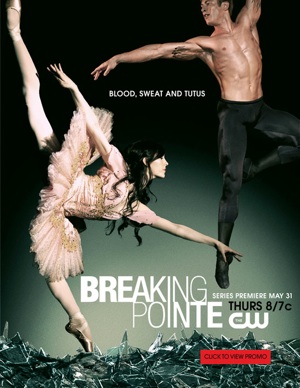 Now onto ballet's influence on today's fashion:
YSL
Hailee Steinfeld in Marchesa at 2011 Academy Awards
Dior Fall 2012
Louboutin's Extreme Ballerina heels (note: these are obviously for display and not wearing)
Tom's Ballet Flats
Tiler Peck of the NYC Ballet models a tulle dress by D&G